Install and configure GitLab with Plesk 12 on CentOS 6
Phase 4 – GitLab Login
Navigate to the URL of the chosen domain (example http://git.nullalo.com) and login with the default GitLab credentials:
Username: root
Password: 5iveL!fe
Change password on first login.
Once you login with the new credentials, you will finally have access to GitLab.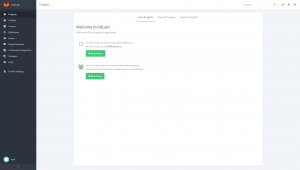 At this point, if you want to access the repository via SSH instead of HTTP, you need to generate a public SSH-2 RSA key for your client.
On Windows you can use Git Bash (already included with Git for Windows) or PuTTy's puttygen.exe command. On Linux or in the first case, once launched Git Bash from the Start menu, the command is:
ssh-keygen -t rsa -C "<your email>"
On Linux, the generated public key can be read with:
cat ~/.ssh/id_rsa.pub
while on Windows it will be located in the following path:
%USERPROFILE%\.ssh\id_rsa.pub
At this point you have to set SSH key for your profile. Click on "Profile Settings" or the profile (root) icon on the bottom left of the GitLab page to access the profile settings: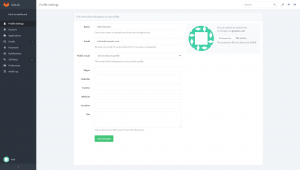 then click on "SSH Keys" in the left menu and finally on the "Add SSH Key" button on the top right corner of the window.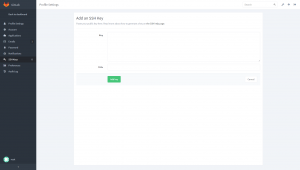 Type in a name for your key (basically your email or client's name) in the "Title" field, paste the public key in the "Key" field and click on "Add key".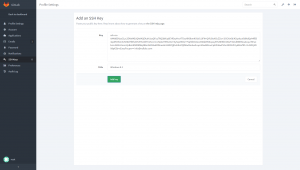 If you got "Fingerprint cannot be generated" error, then the generated key is not correct (maybe you have pasted only a part of it, or is not in SSH-2 RSA format). If the key has been accepted by GitLab, this is what you will see: